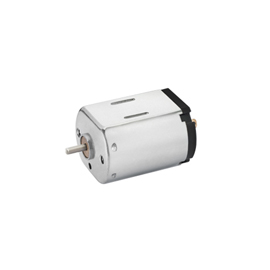 Typical Applications
OUTPUT

0.03W-1.3W (APPROX)

WEIGHT

5g (APPROX)

Precious Metal Brush
Low noise
Low cogging
Low current consumption
Rare earth magnets
Features
Motor achieving low mass, high output, and quiet operation. Available for a wide range of applications in home health-care/medical equipment, electric locks, etc.
Performance Table
MODEL
VOLTAGE
NO LOAD
AT MAXIMUM EFFICIENCY
STALL
OPERATING
RANGE
NOMINAL
SPEED
CURRENT
SPEED
CURRENT
TORQUE
OUTPUT
TORQUE
CURRENT
V
r/min
A
r/min
A
mN·m
g·cm
W
mN·m
g·cm
A
FF-N20WA
9Z190
2 - 6
5
16900
0.035
13930
0.16
0.33
3.3
0.47
1.85
19
0.77
Other Winding Specifications Available in the Web Catalog
Frequently Asked Questions About Products
For inquiries related to products
For inquiries by telephone, please refer to the contact list to confirm your point of contact.