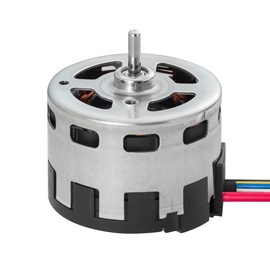 Typical Applications
OUTPUT

150W 〜192W (APPROX)

WEIGHT

135g (APPROX)
Thermal protection
Rare earth magnets
Features
A compact, lightweight, high-efficiency brushless motor corresponds to high rotation and high output.
Performance Table
MODEL
VOLTAGE
NO LOAD
AT RATED LOAD
AT MAXMUM PERFORMANCE
OPERATING
RANGE
NOMINAL
SPEED
CURRENT
SPEED
CURRENT
TORQUE
OUTPUT
SPEED
CURRENT
TORQUE
OUTPUT
V
r/min
A
r/min
Adc
N·m
W
r/min
Adc
N·m
W
ID-659ZA
7510
8-21
19.6
26500
1.22
21500
9.50
0.065
147
22300
8.2
0.054
127
Duty control with 3.3V or 5V signal input.
Built-in drive circuit that can adjust the number of rotations.
Other Winding Specifications Available in the Web Catalog
Frequently Asked Questions About Products
For inquiries related to products
For inquiries by telephone, please refer to the contact list to confirm your point of contact.